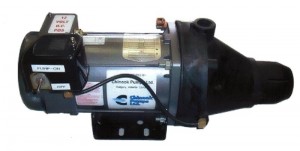 At Chinook we are pleased to offer you our engineered 12 Volt Solutions.
Our 12 Volt Jet Pump is ideal for pumping lifts of 25′ or less.It is corrosion and abrasion resistant and is self-priming after the pump housing is initially filled with water. We offer capacities on our 12 Volt Jet Pumps up to 13gpm (gallons per minute). Our 12 Volt solution is ideal for us in remote locations.
Some application are:
Water Systems
Booster Pump
Marine Use
Mist Sprayers
Fountains
Some features of our 12 Volt Jet Pump:
Quality fiberglass reinforced thermoplastic polypropylene body provides total corrosion resistance to abrasion
Built in Shallow Well Jet has corrosion resistant noryl nozzle and venture.
Polycarbonate Impeller is precision molded for perfect balance. Ultra smooth for highest performance and efficiency.
Precision Molded Diffuser allows pump to prime faster handling more air.
The Heavy Duty Motor has a stainless steel shaft and dual heavy duty ball bearings.
Click here to download our 12 Volt Jet Pump PDF
---
If you have any questions about our 12 Volt Pump Solutions, please call or contact us at (403) 243-3310 or Toll Free at 1.800.784-4324.