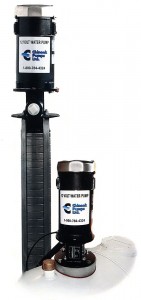 Are you finding that a 12 Volt Pump Solution is hard to find? Then look no further!
Chinook Pumps has developed our own line of 12 Volt Pump Solutions for your needs starting with our 12 Volt Ready Mix Truck Pump System.
This pump experiences No Freezing and is Self Draining. It's simplicity is it's key to it's operation. Each morning simply fill the tank with Hot Water, go the job site and turn the pump on and use as necessary. At the end of the day, drain the tank and blow out the discharge lines. You are now done with the truck for the day.
Here are some of the specifications of our Ready Mix 12 Volt Truck Pump System
Washdown
Rated Flow: 13gpm (gallons per minute)
Rated Pressure: 60psi (pounds per square inch)
Mixing
Rated Flow; 20gpm
Rates Pressure: 20psi
Pump & Motor Technical Data
Impellers: Stainless Steel
Housing: Cast Iron
Temperature: 210 Degrees F
Bearings: Tungsten Intermediate
Rated Voltage; 12V
Rated Speed: 1725rpm (rotations per minute)
This is a Registered Industrial Design – no. 110962 from February 5, 2005.
Click here to download our 12 Volt Ready Mix Pump Truck System PDF
---
If you have any questions about our 12 Volt Pump Solutions, please call or contact us at (403) 243-3310 or Toll Free at 1.800.784-4324.