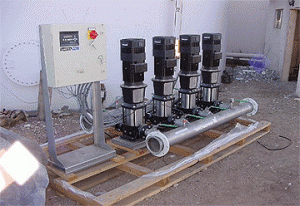 Our High Pressure Booster Pumps are used for boosting, liquid transfer and circulation in systems under high static pressure. Applications can include residential water supply, use in hospitals or laboratories or in the manufacturing industry.
High Pressure Booster Pumps are also used for ultrafiltration in the chemical and galvanizing industries, including painting workshops as well as metal and mineral industries.
Applications
The booster pumps are suitable for pressure boosting in such systems as:
Water supply
Water treatment
Pressure boosting
Reverse osmosis
Industrial applications
Features & Benefits
Stainless steel
Low noise
Simple installation
Modular design
Compact design
Leakage-free
Controls & Accessories
At Chinook we can provide you with pressure switches, tanks and accessories for your High Pressure Booster Pumps.

---
If you have any questions about our High Pressure Booster Pump Solutions, please call or contact us at (403) 243-3310 or Toll Free at 1.800.784-4324.